The Department of Asian American Studies is proud to announce that effective January 2021, professors Lisa Sun-Hee Park and Diane C. Fujino were named Editors-in-Chief of the Journal of Asian American Studies (JAAS).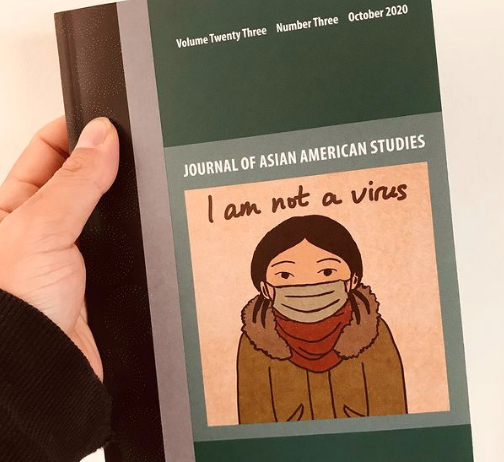 (Pictured above: cover of October 2020 issue of JAAS)
As the official publication for the Association for Asian American Studies, JAAS "publishes original works of scholarly interest in the field, including new theoretical developments, research results, methodological innovations, public policy concerns, pedagogical issues, and book reviews." In addition, History PhD student Donna Anderson will work with Professors Fujino and Park as the Editorial Assistant.
Below are highlights of upcoming and previous issues, some of which have involved collaboration with department faculty.
*****
July 8, 2021 -- Call for Papers!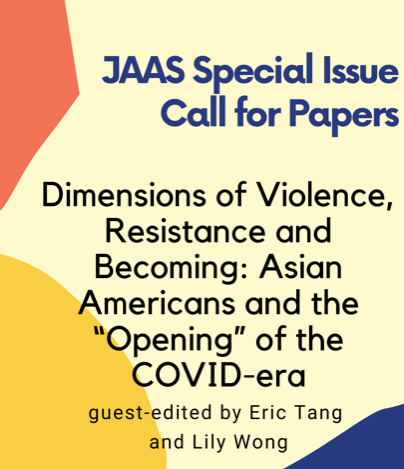 It has been a year of exceptional violence and loss. For many Asian Americans, such violence and loss are tethered to a campaign of anti-Asian attacks that both reinforced and challenged what it means to be Asian in the United States. As the U.S. and other wealthy nations enter the post-vaccinated age (of "opening back up"), and as a new U.S. presidential administration replaces an avowedly reactionary one, what is the time and space in which Asian Americans live as we "open back up"? How might we choose other dimensions of politics, life (being and becoming), or resistance (forming and reforming our politics) that is not limited to the false resolutions and dehistoricizations of liberal-humanist progress? 
This special issue of Journal of Asian American Studies (JAAS) seeks submissions that address possible new dimension(s) of Asian America in a "post"-pandemic world. It reappropriates the post-pandemic notions of "opening up" and "moving on" by asking what are the new dimensions we might open, and in which we might move if we refuse to simply move on? Dimensions in which more challenging discussions can be had about cross-racial solidarities--conversations that make no assumptions of conflict and offer no guarantees of alliance? Dimensions in which new forms of organizing and coalition building are envisioned and enacted? Dimensions in which we can re-interpret the quantitative and qualitative data to tell us something more than whether or not we are making it?
To learn more, visit: https://tinyurl.com/ut28f7fe. Send abstract and brief bio to JAAS.violence@gmail.com by August 1, 2021.
****
The Department congratulates Professor erin Khuê Ninh for the unprecedented partnership her work has inspired between the Journal of Asian American Studies (JAAS) and the online arts magazine Asian American Writers Workshop (AAWW). In February 2021, Professors Ninh and Shireen Roshanravan (Kansas State University) co-edited a special issue JAAS, designing a reader for Asian American college students on the topic of sexual violence. A selection of the pieces from this issue were then cross listed in AAWW with accompanying artwork by Catalina Ouyang.