January 1, 2020
The Department of Asian American Studies proudly recognizes the contributions of Professor Xiaojian Zhao to the exhibit "Gold Mountain: Chinese Californian Stories" at the California Museum in Sacramento. As a member of museum's advisory council, Professor Zhao was asked to be a guest curator for new exhibit exploring 175 years of Chinese history in California.
In an interview with Capitol Public Radio on January 27, 2020, the day before the exhibit's grand opening, Professor Zhao describes how this exhibit tells a story, starting in 1849, when there were just 300 Chinese people in California, to the present day, when California is now home to 1.3 million Chinese Americans.
"What we tried [to show] with this project is that the Chinese are part of California's history," Professor Zhao explains in her interview. "From the Gold Rush years to the railroads, to agriculture, manufacturing, schools – everything."
The exhibit highlights the various stages of Chinese migration to America, including how many Chinese immigrants fought against the Chinese Exclusion Act of 1882. "Chinese Americans were not passive victims of this act," Amanda Meeker, the museum's executive director, comments in the interview with Professor Zhao. "In fact, their successes [in fighting this act] helped shape our immigration policy today."
Professor Zhao and other members of the museum's advisory board hope the exhibit will bring attention to an often-overlooked part of California's history. They also hope it will show how California's Chinese American population has evolved to become a symbol of the state's rich diversity. "We [start with] the story of a community that was very much segregated, isolated," Professor Zhao explains. "But now it's very difficult to find a place [in California] where you don't see any Chinese American presence. [Chinese Americans] are a symbol of multiethnic California society. This appeal to immigrants from all over the world is something very important to the history of our state."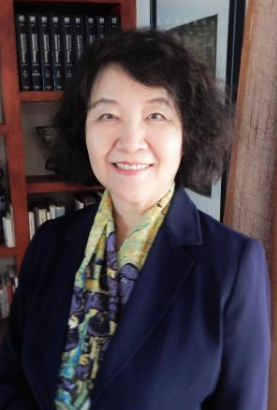 Pictured above: Professor Zhao and image of Chinese immigrant works from the California State Library
    To take a guided tour of this exhibit online, please visit the California Museum's YouTube Channel! Hosted by journalist Lisa Ling (click image below).