By Felix Dong
This represents research on anti-Asian racism at UCSB. It is not a comprehensive listing of all cases of anti-Asian racism and does not mention, for example, an instance of anti-Asian, anti-gay, anti-Black, and misogynistic graffiti etched in the bathroom of San Nicolas Hall in 1998, or an instance of name-calling and egg throwing on the Asian interest residence hall, San Nicholas, or instances of microaggressions or severe cases that appear to be Asian-related. See here for more on student responses to racism, sexism, and homophobia.  This work recognizes past cases of anti-Asian racism at UCSB.  We hope others will add on to this.
May 30, 1978: Baseball Article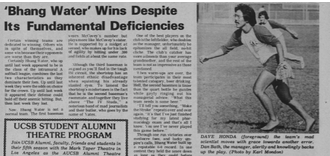 On May 30, 1978, the Daily Nexus published a sports article, "'Bhang Water' Wins Despite Its Fundamental Deficiencies". Richard Bornstein comments on the baseball team and their performance, specifically stating that "Although the third baseman is as good as you'll find in the tough IM circuit, the shortstop has an inherent ethnic disadvantage when squinting his already slanted eyes".
On June 6, 1978, the Daily Nexus issued an apology responding to angry letters to the editor, saying "We appreciate hearing your concerns in this matter. As you have noted, the remark was not intended in malice, but it does show carelessness and a lack of sensitivity to ethnic stereotypes. We hope to avoid such problems in the future. Finally, I wish to extend an apology, on behalf of Richard Bornstein and the rest of the staff".
To see the full article, click on the following link to the June 6, 1978 Daily Nexus issue
April 7, 1990: Tom Tieu
A UCSB teaching assistant, Jacob Neal Sarvela, physically assaulted Tom Tieu after a disagreement in San Rafael Hall lounge. Tieu suffered multiple contusions to the face, one requiring stitches and a broken nose. After days of hiding in his room, fearful of repeated assault from Sarvela, Tom Tieu went to the Asian Student Coalition to receive support and working with the organization, they argued that the incident was racially motivated. 
Two months later, on June 1, 1990, students and faculty were targeted with hate mail. The poster said several statements such as "We have forced Chinks out of UCSB", "You are not wanted here", and "Better watch your actions or else face our tribulations".
The Asian-American Studies faculty issued several statements to the students and staff on campus, calling for action and statements from the administration. The administration was unresponsive during this time until George Ow, a well-known Asian-American philanthropist and businessman, sent a letter to Ueling and the UC president, David Pierpont Gardner. In his letter, Ow criticizes the administration's lack of action and asks for them to suspend Sarvela and compensate for Tieu's medical bills. Barbara Ueling, the Chancellor of Santa Barbara, responded back to Walter Yuen, chair of the Asian-American Faculty and Staff Association, a few days later after the letter was given to George Ow. Ueling acknowledged the situation, publishing a statement.
To see the full article, click on the following links in each of the Daily Nexus issues.
May 25, 1990 https://alexandria.ucsb.edu/downloads/4t64gp36w
May 30, 1990: https://alexandria.ucsb.edu/downloads/6d56zx810
June 1, 1990: https://alexandria.ucsb.edu/downloads/qv33rx686
April 30, 1992: Rodney King Riots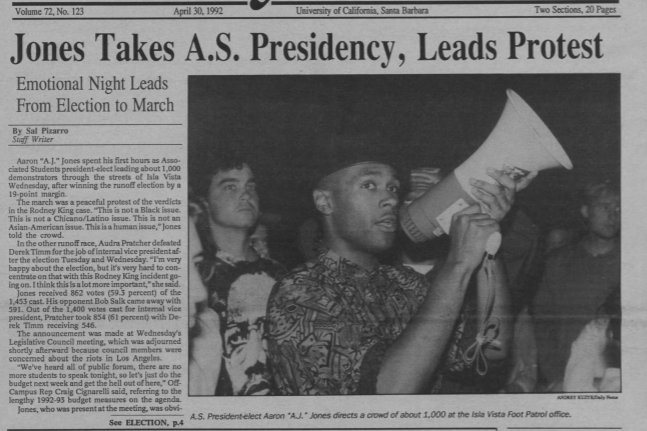 On April 29, 1992, the Rodney King riots started in Los Angeles. Pressure and emotions escalated in the UCSB community and the recently elected A.S. president, Aaron Jones, lead the protests across UCSB and Isla Vista. 
The march began in Storke Plaza and students walked through Isla Vista, chanting, "The people united will never be divided" and stopped at the Foot Patrol office on Pardall Road. The protests were peaceful and the Multicultural Center for students to discuss the issues and tensions behind the Rodney King trials.
Michelle Banks and Suran Thrift were students who worked at the Multicultural Center and worked to facilitate discussion during this time. At a time where there was limited space for students of color to discuss intercultural tensions and issues, the two Multicultural Center interns were able to make an impact and start dialogue about the incident.
To see the full article, click on the following link to the April 30, 1992 Daily Nexus issue and go to pg. 1, 4.
April 30, 1992 https://alexandria.ucsb.edu/downloads/6t053h10d
May 1, 1992 https://alexandria.ucsb.edu/downloads/pv63g1487
May 5, 1992 https://alexandria.ucsb.edu/downloads/5425kb84c
April 2, 2009: Pike Place Fraternity
Several men outside the Pi Kappa Alpha [PIKE] house verbally assaulted and violently beat UCSB student Thanh Hong and Paul Elekes, screaming 'gook', 'ching-chong-ching', and other racial slurs throughout the assault. As the Daily Nexus article reports, "During the incident, documented as two separate counts of battery, the victims were attacked from behind and punched in the face; Hong sustained a lip laceration and sought medical attention."
Comments on the Daily Nexus website had a mixture of comments and opinions, some arguing that the newspapers need to stop covering hate crimes while others arguing that the coverage of hate crimes are important and are not just "fights".
To see the full article, click on the following link to the April 6, 2009 Daily Nexus issue on the Daily Nexus site: http://dailynexus.com/2009-04-06/pike-frat-faces-assault-penaltie
Back to main menu for History of Asian American Studies at UCSB