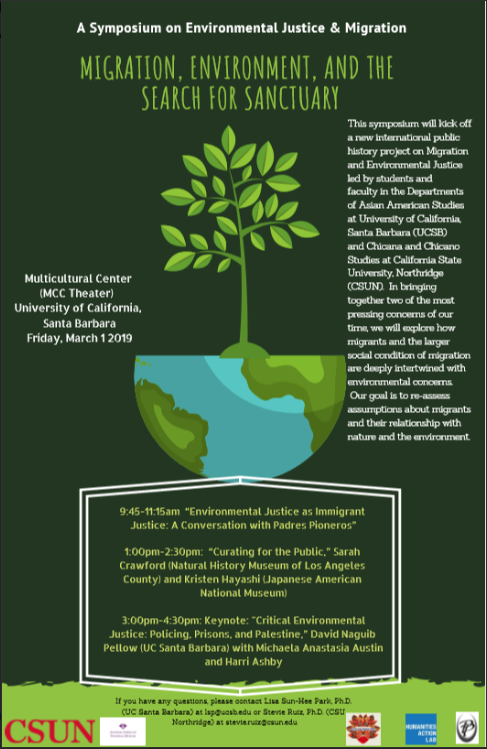 In 2019, Professor and Department Chair Lisa Sun-Hee Park worked with an undergraduate student research team on an international public history project that explores migration and environmental justice. The project is associated with the Humanities Action Lab, a global coalition of universities and organizations across 20 cities, to develop a traveling exhibit, web projects, public programming, and other platforms for civic engagement to challenge climate change.
As part of this initiative, students and faculty from the Department of Asian American Studies at UCSB and the Chicano and Chicana Studies Department at CSU Northridge held a public symposium at UCSB's Multicultural Center on March 1, 2019, entitled "Immigration, Environment, and the Search for Sanctuary." The symposium explored the links between climate change and mass movements of people fleeing environmental injustice. Presentations included:
Environmental Justice as Immigrant Justice: A Conversation with Padres Pioneros
Curating for the Public," Sarah Crawford (Natural History Museum of Los Angeles County) and Kristen Hayashi (Japanese American National Museum)
Critical Environmental Justice: Policing, Prisons, and Palestine," David Naguib Pellow (UC Santa Barbara) with Michaela Anastasia Austin and Harri Ashby
The Story of Gramma's Kitchen
As part of their public history project with the Humanities Action Lab,undergraduate students Frances Tang, Jarel Park, Kahlil Kochiyama, Renee Zapata, TJ Jose, and Michelle Jocson Macrohon created a story map entitled "Grandma's Kitchen," which focuses on Asian American migration and environmental justice:https://storymaps.arcgis.com/stories/727c4e33cc554675b7b64ed317cda043
The story of Say Tang is one of a migrant mother cooking and feeding her family. As the students note, "Tang and other immigrants and refugees may not fit the traditional image of an environmentalist, but we must broaden our vision of environmentalism...many immigrant communities bear the brunt of environmental injustices, making them key sources with valuable knowledge in finding ways to resist environmental oppression." The students go on to describe how Tang, despite having endured environmental harms, such as war and colonization, continues to "nurish multiple generations of her family and create a better neighborhood through everyday practices of care."