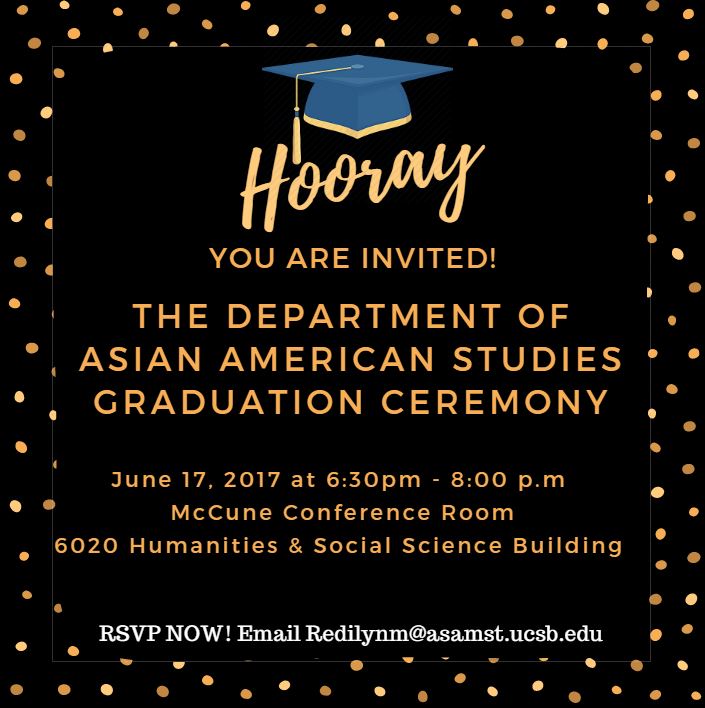 AsAm Graduation! 
Did you know the Department of Asian American Studies has its own graduation ceremony for majors and minors? This intimate event will be taking place on Saturday evening, June 17th in the McCune Conference Room on the 6th floor of HSSB. Our graduation ceremony provides a space for majors and minors to invite their whole family and give personalized short speeches, and we will also be catering a light dinner and cake!
Graduating Seniors -- we're almost there! If you're interested in taking part in the ceremony (and you really should, it's pretty awesome!), make sure that you RSVP by emailing redilynm@asamst.ucsb.edu with your confirmation, as well as how many people you plan to bring as guests so we can get an accurate food count.
Interested in being part of our Graduation Committee? By being a part of the committee, you'll have a say in the agenda of the graduation, as well as who we'll be having for keynote speakers. This will be a very small time commitment of a meeting once every two weeks, so come join and be a part of this awesome group! This is open to all Majors and Minors regardless of graduation year (and if you're interested in applying to be a Peer Advisor next year, this is a great way to learn more about the Department!). 
April 21, 2017 - 11:39am